ATTENTION Youth Basketball Coaches: Here's How To Crush Your Opponents With
Unstoppable Full Court Pressure... Even If Your Kids Are Small, Chubby, or Molasses-Slow!
15 Simple, Fun and Wickedly
Effective Pressure Defense Schemes
That'll Devastate Your Opponents
And Dominate Your League!
Dear Coach,
Let me start with two important facts about coaching basketball... and you can tell me if you agree.
FACT #1 - Defense Wins Championships
Ya, I know. It's corny. But it's darn true.
Listen. Your offense will come and go. Shooters can slump... star players can be shut down... and some nights your kids just can't make a layup.
Truth is... if you really want to be competitive, then you gotta motivate your team to buckle down and take pride in their DEFENSE game after game.
That means getting each kid to believe in a "defense first" mentality.
Inspiring them to ignore their aching muscles and get stops in key situations. Persuading them to make a personal commitment to shutting down their man.
Which brings me to my second point.
FACT #2 - Playing Defense Kinda Sucks
Ok... I'm exaggerating a bit. But hear me out.
Think back to when YOU used to play hoops. Did you ever walk into the gym and start working on your defensive slides? Or practice taking charges?
Probably not.
You grabbed a ball, ran over to the nearest hoop and started firing up shots. Because that's what makes basketball fun. That's why your kids signed up to play. And that's what keeps them coming back to practice week after week.
So the question is - how can a coach inspire that same passion and love on the DEFENSIVE end of the floor? In other words,
How Do You Make Defense FUN For Your Team?
The answer is simple. Pressure defense.
Infuse your kids with an all-out, super-aggressive, trapping mentality, and you'll be AMAZED at how it transforms the culture of your team.
They'll play harder. They'll play with more intensity. And they'll play with a physical "edge" that'll intimidate even the toughest opponents.
Not only that, the pressure defense becomes an essential part of your team's strategy. You can use it to...


| | |
| --- | --- |
| | Force turnovers on command, so you can always catch up in the late stages of a game |
| | Control the tempo of the game, so you can slow down or speed up the action to suit your team's strengths |
| | Disrupt your opponent's offensive flow, so they have a harder time running their plays |
| | Take advantage of teams that don't handle the ball well, so they panic, make bad decisions, and turn the ball over |
| | Impose your will on the competition and destroy their desire to win |
But here's the bad news. With so many different pressure defenses out there, it's hard to know which ones will fit the strengths and weaknesses of YOUR personnel. And which ones will just embarass your team and make you look silly.
Remember, this is NOT something you can just pick up by watching other teams play. Or browsing around the web for unproven ideas.
The good news is - learning the art and science of running a top notch pressure defense isn't as hard as it looks. You just need a little guidance.
That's OK. This is what I do, so help is on the way.
This Step by Step Playbook Shows You
Exactly How To Develop An Unstoppable
Pressure Defense System
Here's the deal.
You could go out and read EVERY source ever written on full court pressure, spend HOURS attending clinics or interviewing college and pro coaches...
Or...
Download this simple playbook that shows you exactly how to install and run a devastating pressure defense system in the fastest, easiest way possible.
No fluff and NO B.S.
Ultimate Full Court Pressure is jam-packed with 15 individual trapping plays, all explained with simple, step by step instructions, diagrams, and coaching pointers.
No matter how small, slow, or inexperienced your kids are, I guarantee this playbook will transform you into a defensive powerhouse, practically overnight!
It's all broken down into three base defenses...
Full Court Man to Man - "40" Defense
This is the "Full Monty" of pressure defenses - high risk and high reward.
Defending from endline to endline, "40" defenses apply massive pressure to your opponent's ballhandling and passing abilities in the back court.
Quick turnovers lead to easy layups for your team, and it's a great option if you've got athletic guards with a high basketball IQ!
You'll learn how to run:


| | |
| --- | --- |
| | 41 - Full Court Dribble Trap |
| | 42 - Full Court Inbounds Trap |
| | 43 - Full Court Blind Trap |
| | 44 - Full Court Bluff Trap |
| | 45 - Full Court Wild Man Trap |
Three Quarter Court Man to Man - "30" Defense
Want to force turnovers, but don't like the risk of a full court attack? Then the three quarter court press is for you!
"30" defenses work by coaxing the offense into a false sense of security, then springing a devasting trap just over the midcourt line.
They're versatile, simple, and fun to run (even if you're lacking blue-chip athletes!)
You'll learn...
| | |
| --- | --- |
| | 31 - Three Quarter Court Dribble Trap |
| | 32 - Three Quarter Court Inbounds Trap |
| | 33 - Three Quarter Court Blind Trap |
| | 34 - Three Quarter Court Bluff Trap |
| | 35 - Three Quarter Court Wild Man Trap |
Half Court Man to Man - "20" Defense
If you don't have the speed or length to extend past half court, "20" defenses are a great way to disrupt your opponent's offense, and throw them off their game plan.
Even if you don't force a turnover, you'll get the ball OUT of their point guard's hands, and force them AWAY from their "go-to" offensive options.
And since you're only guarding half the court area, it's way less risky. You'll get step by step diagrams and instructions for:


| | |
| --- | --- |
| | 21 - Half Court Dribble Trap |
| | 22 - Half Court Inbounds Trap |
| | 23 - Half Court Blind Trap |
| | 24 - Half Court Bluff Trap |
| | 25 - Half Court Wild Man Trap |
And don't worry. I'm not just handing you a stack of diagrams and hoping you figure it out on your own.
The playbook is jam-packed with simple coaching tips and instructions.
I'll take you by the hand and show you exactly which pressure defenses will work best for YOUR team... when to run the defense to get the best results... and HOW to install the defense in the fastest, easiest way possible!
I Can't Take All The Credit For This System
Sure, I've been working with basketball teams and "coaching coaches" for a long time - but I still consulted EVERY basketball expert I knew, personally tried and tested dozens of different defenses with my own players, and then added my own personal experiences to develop this system.
Don't let the size of this short playbook fool you. Over 100 hours of research (and many thousands of dollars) went into this project.
The plays contained inside are simple, proven and FAST to learn, so you can start teaching them at your very next practice (tonight if you want)... and have them ready to rock at your very next game.
Why Do All That Research Yourself?
How much is your time worth? Think about it, why should you go out and duplicate all the time and effort I put into this research? I've done the trial and error for you, so you don't have to.
I've pulled together in one simple collection every pressure defense you'll need. This system is guaranteed to work with teams of all ages, from Bitty Ball through High School, even college - no if's, and's or but's about it.
Imagine…
| | |
| --- | --- |
| | The confidence you'll feel, walking onto the court at your next game with an arsenal of devastating pressure defenses that will stun your opponents into coughing up the ball... over and over and over! |
| | The peace of mind you'll have, knowing your players are truly embracing the defense first mentality, and that your squad can compete with ANYONE on any give night. |
| | The fun and satisfaction you'll experience, watching your kids get better and better each week, piling up the wins, and developing a love for the game that will last them a lifetime! |
Why It's Just $7
If you're thinking, "$7 is so cheap - what's the catch?" - there isn't one.
Listen, I know that coaching youth basketball is loads of fun, but it's a lot of work too. And I've devoted my life to helping folks like you save time and energy, while experiencing more success with their teams.
In fact, I'm only charging $7 for three reasons.
| | |
| --- | --- |
| | $7 puts the report within reach for the vast majority of people. It's not expensive for even the humblest beginner. |
| | Anyone who won't invest $7 in this report isn't serious enough to follow this system anyway |
| | Anyone who can afford to invest the price of a fast food dinner and take the time to learn these techniques… can immediately and dramatically improve the skills of their basketball team |
So if you're serious about becoming a better coach, and if you would like to instantly have a proven plan to dominate your opponents with pressure defense, click the Add to Cart button below now.
If you need to justify the expense, skip going to McDonalds for dinner once this week and it's paid for.
My Double You'll Love It Guarantee
Guarantee #1 - If for any reason, you think this playbook isn't the best $7 you've ever spent, just send me an email within 60 days of purchase and I'll gladly refund you the whole 7 dollars.
Guarantee #2 - If you actually use these plays against your opponents and don't force more turnovers and win more games, I'll actually refund TWICE your money.
All I ask is that you give me an honest effort.
How is that for fair?
It's just 32 pages. Short enough to read in one sitting.
But don't be fooled.
There's more real, actionable information jammed into this playbook, than you'll get reading a dozen books.
The methods inside have worked for other people just like you, and it's 100% guaranteed to work so you can't possibly lose money. It's a no brainer.
And to really make sure you really hit the ground running, I'm also going to give you these 2 additional coaching reports, valued at $39.94!
These are the perfect complement to your new full court pressure playbook... everything you need to master the transition game and totally dominate your league!
Bonus Report #1 ($19.97 value)

Practice Drills For Up-Tempo Basketball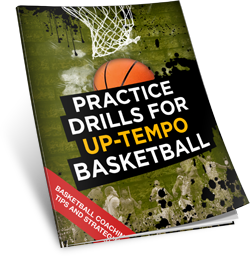 This collection of 29 drills will help your team become masters of the up-tempo style of play, so you can play a more aggressive brand of defense, push the ball at every opportunity, and have more FUN on the court!
Here's a small sample of what you'll learn…


| | |
| --- | --- |
| | 5 on 5 on 5 full court drill |
| | Triangle and arc rebounding drill |
| | Steal from behind drill |
| | Scramble ball drill |
| | 2 on 2 trap drill |
| | 3 on 3 full court transition drill |
| | Scramble shell drill |
| | Grimace drill |
| | Nebraska drill |
| | Early offense drill |
And a lot more!
Bonus Report #2 ($19.97 value)

Prolific Scoring Offense
Discover the simple secrets to a high-scoring offensive system! This incredible report features 37 step by step offensive plays explained with clear instructions and detailed diagrams.
These plays are perfect for scoring in your early offense (which you'll get plenty of chances to do once you implement your new pressure defense).
Here's a small sample:


| | |
| --- | --- |
| | Wing isolation: How to create high percentage scoring opportunities by isolating your 2 or 3-man from the wing position. Learn simple ways to get a wide open three, 1 on 1 clear out, pick and roll, or drive and kick! |
| | Low post isolation: Want to flex your power game? Discover four proven tactics to get your best low post scorer isolated on the block, including mid-gap baseline cut, strong post up, weak side flash, and drive and lob! |
| | Transition fast break: Learn five killer strategies for attacking the basket in transition, and getting great looks for your best scorers! |
Plus… you'll also learn the best zone offense to use… how to create great matchups for your point guard to exploit… out of bounds plays that really work… and a whole lot more!
I'm Offering Special Pricing Today To
Help You Jumpstart Your Season!
Time is very much "of the essence." If you want to develop a dominant basketball team this season, you need to start right now.
This playbook is so essential I'm practically giving it away because I want to make sure you take the simple steps to becoming an unstoppable defensive powerhouse right away.
Click the Add to Cart button below to get instant access to "Ultimate Full Court Pressure" Risk Free for just $7.
Claim Your Copy Of "Ultimate
Full Court Pressure" Right Now
YES, I want in! I want access to your "Ultimate Full Court Pressure" report, plus "Practice Drills for Up Tempo Basketball" and "Prolific Scoring Offense." Please give me INSTANT access to this step by step playbook right now!
Price Today: $47.00 $27.00
Today Only $7
Price Guaranteed ONLY Until We've Sold 500 Copies
(That's a savings of 85%)
Here's what to do to order… Have your MasterCard, American Express, Visa or PayPal account ready, and click the pretty orange button below to continue…
Your ePlaybook is waiting for you to claim it. Just $7 gets you instant digital access so you can start using these drills tonight.
WARNING: You Will Make Mistakes
There's an old saying - pioneers get scalped, while settlers prosper.
I've already done the research... spent the time filtering out what doesn't work… and compiling it all into this incredible "best of" full court pressure collection.
There's no need to waste your time searching the web for unproven ideas, or spend hundreds of dollars on coaching clinics. Just download "Ultimate Full Court Pressure" and you'll get instant access to a complete playbook you can start using today!
Click here to get instant access to
Ultimate Full Court Pressure now for just $7!
PS - Remember, you get a full 60 days to review all the plays and see if they work for you. And if you're not 100% satisfied I'll send you DOUBLE your money back!