ATTENTION
: Basketball Coaches
Discover 14 Game-Tested Plays
To Spread The Floor, Get More
Easy Layups and Wide Open
Threes For Your Team!
Introducing The Ultimate "5 Out Offenses" Playbook
Dear Coach,
| | |
| --- | --- |
| | f you like the idea of spreading the floor, sucking the defense OUT of the paint, and getting tons of high percentage shots... then please take a few moments to read this short letter. |
It could be the most important thing you'll see all season!
The "5 Out" or "Open Post" Offense is one of the most popular sets you'll see at the youth, high school and college levels.
It puts all 5 of your players outside the arc, pulling the defense away from the basket and away from help side position... and opening up the floor for dribble penetration, backdoor cuts, and drive and dish plays.
Whether you use it as a primary offense, or a secondary set to "go small" and create some mismatches... it's an important strategy that every serious coach should know.
It's Never Been Easier to Run the 5 Out Offense!
Using simple language and easy-to-follow diagrams, we've broken down the offense in a brand new PDF playbook for coaches.
It's jam-packed with 14 killer plays... guaranteed to get consistent, high percentage looks for your team... no matter how much you're struggling on offense right now.
Best of all, this offense is SIMPLE to teach and EASY to learn.
You can install any of these plays in just one practice... and start using them to dominate your opponents by your very next game!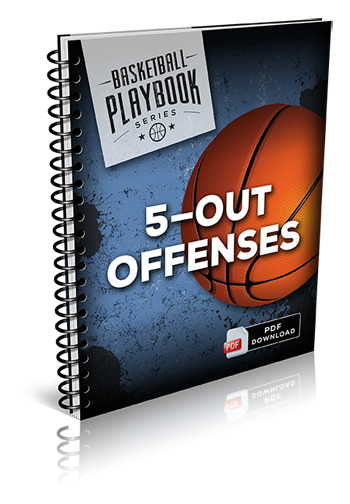 Here's a small sample of what you'll learn...
| | |
| --- | --- |
| | Double Drag – Uses a double ball screen to get your point guard attacking the paint with a head of steam. This one is sure to put the defense on its heels and give your players open look after open look! |
| | Two Side – A quick variation that will catch your opponents by surprise and get a wide open catch and shoot opportunity for your power forward! |
| | Thumb Up – Frees up your point guard to create his own shot, or hit a big man rolling hard to the hooop |
| | Thumb Up Stack – This variation to the previous play gives your point guard the option of hitting your center diving to the hoop... or your power forward popping out for a quick 12 foot jumper |
| | Quick Two – A fast-developing play that's PERFECT for late-game or end of quarter situations |
| | Flat – Have a talented point guard? This play will put the ball in his hands and free him up to go all the way to the hoop, take a pull up jumper or kick to any of his open teammates! |
| | 5 – This play turns your entire team into scoring threats … creating a variety of open looks for every kid on the floor! |
| | 5 - Baseline Option – Run this play a few times in a game and watch your team's field goal percentage soar! |
| | 5 - Flare Option – Creates a quick catch-and-shoot opportunity for your center that's sure to catch the defense off guard time and time again! |
| | Tiger – At the end of this play, your point guard will have the option of hitting your two guard for an open three pointer or the power forward rolling to the hoop – either way it's a great look and an easy basket for your team! |
| | We've also included 3 easy to learn "Stack" and "Box" plays to help initiate your offense, even under heavy man to man pressure |
| | PLUS, you'll also get the Best Backdoor Ever play – if you're up against a defense that's prone to over committing on screens, this backdoor play will get you boatloads of easy layups! |
And a lot more. Best of all...
This Playbook Shows You Exactly
How To Run Each Play... And The
BEST Way To Teach It!
Listen. I'm not just handing you a stack of scribbled notes on a paper napkin and telling you to figure it out on your own.
To shorten the learning curve and really make sure you and your players "get" this stuff immediately, every play is explained with detailed diagrams and "brain dead" simple coaching tips and pointers.
You'll get step by step details and illustrations explaining:
| | |
| --- | --- |
| | The goal of the play and how you'll use it to score |
| | Detailed responsibilities for each position, 1 through 5 |
| | Primary, secondary, and "release" options |
| | Reads, options and counters to help you outsmart opposing coaches |
So you can take this information to the court TONIGHT, install the plays at your next practice and start using them at your very next game!
I Can't Take All The Credit For This System
Sure, I've been studying basketball strategy for a long time - but I still consulted every coaching expert I knew, and personally tried and tested dozens of different plays with my own teams, then added my own personal experiences to develop this system.
All 14 of these plays are based on concepts and ideas from some of the most established and successful high school, college and pro coaches of all time.
Coaches like...
Shawn Huse, MSU-Northern

Coach Huse has led the Lights to five straight NAIA National Tournament appearances, eight 20-win seasons in a row, two Frontier Conference Co-Championships (2008, 2011, 2012), and two Conference Tournament Championships (2011 and 2012).

He holds a career record of 256-130 over 12 seasons, and was voted Frontier Conference Coach-of-the-Year in 2008.


Ron Niekamp, University of Findlay

Coach Niekamp has a combined High School and College coaching record of 806-271. Before retiring, he led the University of Findlay to 26 consecutive winning seasons, including nine consecutive NCAA DII National Tournament Appearance, ten GLIAC South Div Championship, twenty 20-win seasons, five GLIAC Tournament Titles… and a 100 game regular season home win streak.

Niekamp also won the 2009 Division II National Championship on his way to a 36-0 record, and was named 2009 National Coach of the Year.


Todd Holthaus, Pima Community College

A 5-time Regional Coach of the Year, Holthaus made seven consecutive trips to the Arizona State Tournament as a High School Coach.

Since 2006, he's posted a 150-78 record at Pima Community College, making 3 trips to the NJCAA tournament and winning the NJCAA District A Coach of the Year award in 2009, 2010 and 2011.
Get Instant Access From Anywhere In The World!
The 5 Out Offenses Playbook is delivered to you in PDF format, so you can get instant digital access... right over your computer screen, smartphone, tablet, or eReader... from anywhere in the world with an Internet connection!
That means you can download these plays to any device (or print them out) and bring them to practice tonight!
There's no waiting for the mailman to show up. And no shipping or handling costs either.
Don't let the size of this short playbook fool you. Over 100 hours of research (and many thousands of dollars) went into this project.
The plays contained inside are simple, proven and FAST to learn, so you can start using them at your very next practice (tonight if you want).
Why Do All That Research Yourself?
How much is your time worth? Think about it, why should you go out and duplicate all the time and effort I put into this research? I've done the trial and error for you, so you don't have to.
I've pulled together in one simple collection every play you'll need to run a killer 5 out offense.
This system is guaranteed to work with kids of all ages, from Bitty Ball through High School - no if's, and's or but's about it.
Imagine…
| | |
| --- | --- |
| | The confidence you'll feel, walking onto the court at your next practice, armed with an arsenal of creative basketball plays your players will love. |
| | The peace of mind you'll have, knowing your plays were developed by some of the most respected amateur and pro coaches in the world |
| | The fun and satisfaction you'll experience, watching your team pile up the wins, and watching your players develop a love for the game that will last them a lifetime! |
Why It's Just $7
If you're thinking, "$7 is so cheap - what's the catch?" - there isn't one.
Listen, I know that coaching youth basketball is loads of fun, but it's a lot of work too. And I've devoted my life to helping folks like you save time and energy, while experiencing more success with your team.
In fact, I'm only charging $7 for threereasons.
| | |
| --- | --- |
| | $7 puts the eBook within reach for the vast majority of people. It's not expensive for even the humblest beginner |
| | Anyone who won't invest $7 in this report isn't serious enough to follow this system anyway |
| | Anyone who can afford to invest the price of a fast food dinner and take the time to learn these plays… can immediately and dramatically improve their team's offensive firepower and win more games! |
So if you're serious about becoming a better coach, and if you'd like to master the secrets of the 5 Out Offense today, click the Add to Cart button below now.
If you need to justify the expense, skip going to McDonalds for dinner once this week and it's paid for.
My Double You'll Love It Guarantee
Guarantee #1 - If for any reason, you think this playbook isn't the best $7 you've ever spent, just send me an email within 60 days of purchase and I'll gladly refund you the whole 7 dollars.
Guarantee #2 - If you actually use these plays and don't get a ton of easy layups and wide open shotsl, I'll actually refund TWICE your money.
All I ask is that you give me an honest effort. How is that for fair?
It's just 34 pages. Short enough to read in one sitting.
But don't be fooled.
There's more real, actionable information jammed into this report, than you'll get reading a dozen books.
The methods inside have worked for other people just like you, and it's 100% guaranteed to work so you can't possibly lose money. It's a no brainer.
And to make sure you really hit the ground running, I'm also going throwing in two exclusive bonuses valued at $69.90!
Bonus Coaching Resource ($49.95 value)
Full Team Playbook License
After you download the playbook, you have my permission to reprint up to 20 copies of it for your own coaching staff and players... so you can get your entire team up to speed as quickly as possible!
PLEASE NOTE: the playbook is copyrighted so you can't share it with other teams or post it online (trust me - you're going to want to keep these wickedly effective plays to yourself anyway!)
Bonus Coaching Resource ($19.95 value)
Practice Drills for Up-Tempo Basketball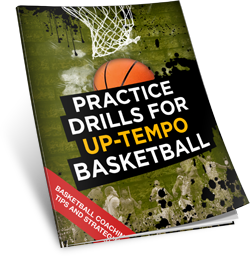 This collection of 29 drills will help your team become masters of the up-tempo style of play, so you can play a more aggressive brand of defense, push the ball at every opportunity, and have more FUN on the court!
Here's a small sample of what you'll learn…
| | | | |
| --- | --- | --- | --- |
| | 5 on 5 on 5 full court drill | | Triangle rebounding drill |
| | Steal from behind drill | | Scramble ball drill |
| | 2 on 2 trap drill | | 3 on 3 full court transition drill |
| | Scramble shell drill | | Grimace drill |
| | Nebraska drill | | Sideline fast break drill |
And a lot more...
I'm Offering Special Pricing Today
To Help You Jumpstart Your Season!
Time is very much "of the essence." If you want to develop a dominant basketball team this season, you need to start right now.
This playbook is so essential I'm practically giving it away because I want to make sure you take the simple steps to becoming a half court offense mastermind.
Click the Add to Cart button below to get instant access to the 5 Out Offenses Playbook Risk Free for just $7.
Claim Your Copy Of The
5 Out Offenses Playbook Right Now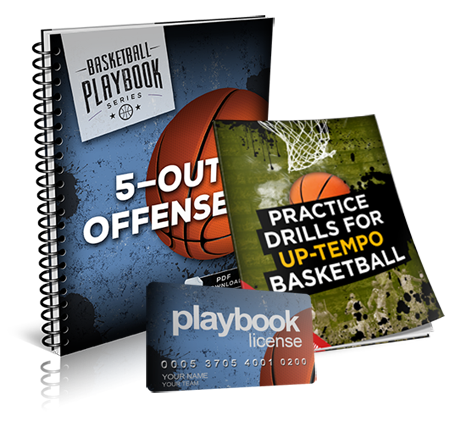 YES, I want in! I want access to your 5 Out Offenses Playbook, plus the Team License and the Practice Drills for Up Tempo Basketball. Please give me INSTANT access to this step by step coaching collection right now!
Price Today: $47.00 $27.00
Today Only $7
Price Guaranteed ONLY Until We've Sold 500 Copies
(That's a savings of 85%)
Here's what to do to order… Have your MasterCard, American Express, Visa or PayPal account ready, and click the pretty orange button below to continue…
Your playbook is waiting for you to claim it. Just $7 gets you instant digital access so you can start using these plays tonight.
WARNING: You Will Make Mistakes
There's an old saying - pioneers get scalped, while settlers prosper.
I've already done the research... spent the time filtering out what doesn't work… and compiling it all into this incredible "best of" 5 Out Offenses collection.
There's no need to waste your time searching the web for unproven ideas, or spend hundreds of dollars on coaching clinics. Just download the 5 Out Offenses Playbook and you'll get instant access to 14 proven plays you can start using today!
Click here to get instant access to the
5 Out Offenses Playbook now for just $7!
PS - Remember, you get a full 60 days to review all the plays and see if they work for you. And if you're not 100% satisfied I'll send you DOUBLE your money back!